Solving the Grading Puzzle for Students with Disabilities
by Dr. Dennis D. Munk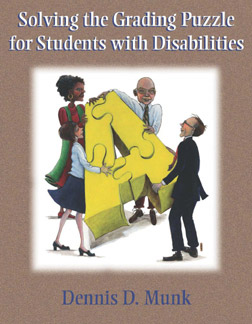 While students with disabilities often spend the majority of their instructional time in general education classrooms, their grades may not adequately reflect the effort, achievement, and progress they have made. In this groundbreaking book, author Dennis Munk outlines a research-based system for school-based teams to use as they seek to demonstrate the academic gains made by students with disabilities. A practical guide for teachers, administrators, and parents, this book will help navigate the philosophical, ethical, and practical complexities associated with designing equitable, effective, and meaningful grading systems. Numerous real-life case studies and reproducible grading adaptation tools facilitate research-to-practice implementation efforts.
Contents
Section 1 Foundations
Introduction
Overview of grading issues
Section 2 Developing Grading Adaptations
Perceptions of what grades, can, should, and do communicate
Grading adaptations
Evaluating grading adpations
Section 3 Implementing Grading Adaptations
Prioritizing content and related assignments
Adjusting the components of a balanced grading system
Measuring and grading progress on IEP objectives
Measuring and grading improvement
Changing scales and weights
Section 4 Communicating Grading Adaptations
Issues in calculating and reporting student grades
A plan for developing Personalized Grading Plans
Grading issues in the news
References
Appendix A Case Study: Tania
Appendix B Reproducible Tools
Index
Solving the Grading Puzzle for Students with Disabilities
Copyright 2003
194 pages
ISBN 0-9708429-7-x
$34.95
To order online, click on the ADD TO CART button above. Your order will be processed and shipped promptly.